The capacity of machines or computers to mimic human thought or decision-making is known as artificial intelligence (AI). After years of speculation about the technology and its potential, AI is beginning to live up to its promise.
Artificial intelligence (AI) in customer service has become a priority for many firms. The market for AI is anticipated to rise to over 2 trillion dollars by 2030. 
Let's know the top ways to use AI in customer services. 
What is AI in customer service?
AI is utilized in customer service to enhance the customer experience and produce more enjoyable customer interactions. Your customer service personnel will work more efficiently, respond to client requests more rapidly, and proactively anticipate customer demands with chatbots and sentiment analysis technologies. 
AI in customer service entails global 24/7 availability in any language, which inevitably draws in new clients and raises satisfaction levels. AI can also collaborate with human support staff to solve routine tasks, freeing them up to handle more complicated issues. AI technologies like chatbots can quickly identify voice triggers without human agents and offer pertinent information and direction.
Data gathering and analysis is another method AI is integrated into customer service. Customer communications create tremendous data that can give important insights into customer behavior, preferences, churn rate, and other factors.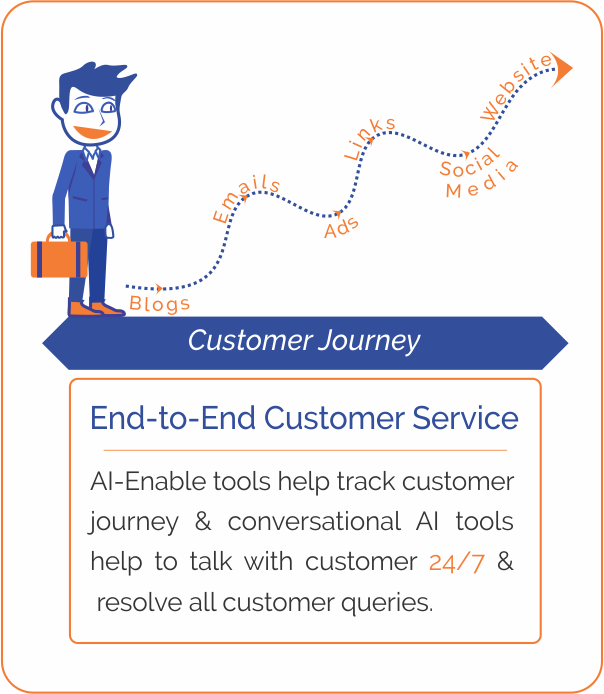 With AI, you no longer need to analyze and make conclusions from the data manually. Additionally, AI can help develop a thorough understanding of conversational, interactional, and consumer intelligence.
Let's know some essential facts and stats related to AI in customer service-
According to 

Accenture

, AI technologies are expected to boost company productivity by up to 40% by 2035.

 US businesses are losing $75 billion annually through poor customer service – 

NewVoiceMedia. 

You can gain deeper insights and improve user experience with AI-powered customer care. This enhances brand perception, client retention rates, preventive assistance, and even income-generating for businesses. In fact, 

by 2035, AI is predicted to increase business productivity by up to 40%.
Benefits of customer service AI
You can think of AI as one of your top customer service representatives. They are incredibly well-organized, always accessible, and never voice complaints. Here, we are presenting some of the top benefits of customer service AI–
Improved Customer Support Workflows
At almost any stage of the customer experience, AI technology can decrease friction. Chatbots let you quickly respond to common inquiries from brand-new clients.
You can create customized emails and knowledge base articles for your clients using conversational AI solutions, such as HubSpot's AI content assistant. By streamlining internal processes, AI enables you to maximize customer service encounters.
Reduced Response and Handle Times
AI can provide you with higher customer response metrics with improved workflows. For instance, you can instantly respond to a customer's live chat message using chatbots. Your support team's first response time will considerably drop as a result.
The outcome? Your average handle time will decrease because you will handle incoming requests more quickly.
Better Predictions of Customer Behavior
AI makes predictions based on current data. You may use AI to predict your consumers' behavior based on their past purchases, spending patterns, and personal preferences. You can use predictive AI to find patterns and proactively improve the consumer experience.
Guaranteed Consistent Support
Automation techniques enable you to offer dependable service even if no agents are available. With AI-powered customer service bots, your customers can resolve a problem at any hour of the day.
Even though we all make mistakes, AI-based models are honed, to be exact. They get more accurate as more data is processed. This indicates that you will see better outcomes the more you utilize it.
You can remain on top of changing customer support needs if you are more accurate. 
Uninterrupted (or fewer interruptions in) Service
Account managers must occasionally leave their desks. It is expensive to cover each hour with too many employees working in shifts. Conversely, an understaffed team may experience weariness, burnout, and other issues. So what is the best course of action?
AI customer service can continuously help human employees and take their place as needed. This does not imply that chatbots can entirely replace workers. AI can help workers manage their professional and personal lives by assisting them with specific activities.
Using AI in customer care will be less expensive as your organization expands than recruiting customer support employees. Even for simple jobs, there are free AI solutions available. Each firm can find its ideal option thanks to the different chatbot pricing offered by other tools. Overall, the initial investment isn't high if you want to employ AI for customer service. The savings, nevertheless, can be significant.
Higher Agent and Customer Satisfaction
Customer support bots are learning incredibly quickly because of advances in artificial intelligence. Better customer service can result from an AI bot gathering pertinent information about clients and increasing their pleasure. Fast response times, availability around-the-clock, and multilingual help are just features that enhance the customer experience and boost customer loyalty.
Challenges With Customer Service AI
There are several concerns associated with AI. Since many of its applications are still developing, some risks will eventually diminish as implementation difficulties are worked out. Let's know some of the top challenges with customer service AI-
We can't say AI is perfect, as it still requires many improvements. There have been questions regarding how sensitive user data can be securely anonymized when massive amounts of data are synthesized.
Long-term System Maintenance
As was already mentioned, the field of AI is continually changing. Long-term maintenance can be challenging and call for implementation teams with specialized training.
Implementation Difficulties
 It can be challenging to implement AI systems. Enterprises should anticipate a lengthy rollout process with numerous trial-and-error iterations before going live.
Businesses must compare the installation costs of AI-powered customer service solutions with the potential rewards to know whether or not customer service AI is beneficial. 
 Current team members may require additional training and are initially reluctant to change established workflows.
How to Use AI in Customer Service?
The development of artificial intelligence (AI) is paving the way for greater efficiency throughout businesses, particularly in the area of customer service. You can get deeper insights and improve user experience with AI-powered customer support. This enhances brand perception, client retention rates, preventive assistance, and even income-generating for businesses. In fact, by 2035, AI is predicted to increase business productivity by up to 40%.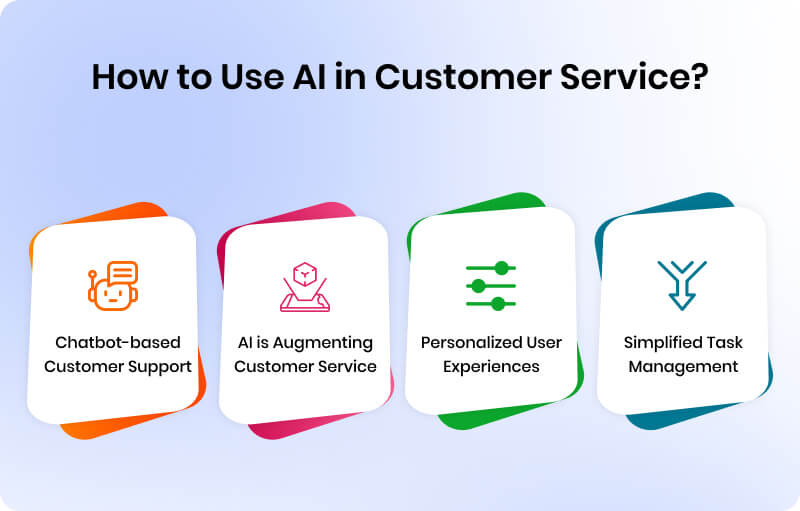 Let's know some of the top ways businesses can use AI in their customer service ecosystems.
Chatbots are one of the most widely used applications of AI in customer service. Businesses already employ chatbots of different complexity to answer common inquiries about order status, delivery dates, outstanding debt, and other topics obtained from internal systems. The customer support team can assist more individuals and improve the overall experience by moving these commonly asked questions to a chatbot, all while lowering operational costs for the business.
These days many bots use NLP. The primary focus of NLP is the study of natural human languages. It enables machines to comprehend and interpret statements or phrases to respond to inquiries, offer guidance, translate, and communicate with humans. Semantic analysis, voice tagging, syntactic analysis, machine translation, and other techniques are used in this process.
The capacity of AI to identify an object in a picture or video is known as object detection. Take a picture of your cooler; for instance, the AI will find you similar discounted things.
There are very few object detection techniques available in SaaS. Even so, it might be significant shortly as users can request automatic assistance by providing a screenshot.
Optical Character Recognition (OCR) 
Optical Character Recognition OCR and artificial intelligence (AI) are closely related. AI analyses and comprehends the scanned image during the OCR process and can identify character patterns corresponding to letters, numerals, and other symbols. AI can help OCR technology be more accurate by automatically fixing text recognition mistakes.
Machine Learning and Predictive Analytics 
The core of AI-based customer behavior prediction is machine learning.
It involves delving through vast amounts of data to uncover valuable information that may be used to predict trends, gauge customer mood, and address problems down the road.
While chatbots are excellent at resolving more straightforward problems, most can't handle delicate or complex situations. In this case, augmented messaging is useful. This AI program finds instances where human agents should assist the client with more personalization. 
Many bots today use natural language processing and sentiment analysis techniques to evaluate user reactions. This instructs the bot to respond when a user exhibits a particular behavior, preventing it from inflaming the user's emotions while attempting to assist them.
While creating a comprehensive knowledge base or FAQ page can take time, self-service tools are essential for a positive CX. The good news is that ChatGPT and Jasper.ai, two AI writing assistants, can be helpful. These technologies employ AI to synthesize available material and produce copies based on a chosen topic. After that, you can utilize this text to produce knowledge base articles or come up with responses to frequently asked questions about your product.
A recent HubSpot survey shows that most customers (57%) prefer to call customer care over the phone. Automation of call center interactions has become simpler with voice AI. These tools can be trained in predictive call routing and interactive voice response to serve as the first line of defense for customer inquiries.
Voice AI is used, for instance, when you contact your favorite business, and an automated voice guides you through a sequence of questions.
Not all the features are customer-facing. Tools that are connected to your software are some of the most helpful ones. For instance, you can use AI with your CRM to help your service agents recall customer information. This feature enables your customer success team to provide clients with proactive service based on data produced by AI.
The ability to produce information in various languages is a feature of many AI chatbots and conversational tools. This is especially useful if your company conducts business internationally. Before the communication reaches your support team, AI can identify the customer's language and translate the message. Alternatively, you can use it to automatically start a response when the original query's language matches.
Wrapping up on AI for customer support
You can save time and money by automating various processes while providing customer service with AI. Your efficiency will increase, and you'll gain more insight from what your consumers say.
Customers are happy when your customer support processes are more effective and high-quality. They become brand evangelists and enhance your company's reputation; positive testimonials draw in additional clients and increase sales.
Parangat enables your customer service representatives to focus more time on essential consumers by automatically classifying incoming service requests. Learn how to enhance customer service with simple, no-code AI workflows by immediately registering for Parangat.
With roll up sleeves, dive in and get the job done approach, it was in the year 2010 when Sahil started Parangat Technologies. Emphasizing a healthy work culture and technology-driven company, he has successfully created a workplace where people love to work and live. He is a software engineer and a passionate blockchain enthusiast.